Jane Davenport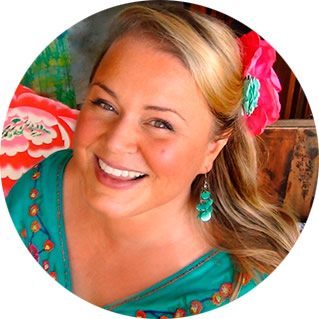 ​​​​​​​In a nutshell:
"Jane Davenport is an artist, bestselling author and the Creative Director for Jane Davenport Mixed Media art supplies. Through her bustling online art school, she expands on her books and demonstrates tips and techniques for drawing and painting."
In my spare time I am also an avid art supply junky, Art Journal Evangelist and koala mama (yes, Koalas visit my garden!). I live at 'The Nest' overlooking Byron Bay in Australia.
My passion is teaching women how to defy self-imposed creative gravity. I believe everyone is creative and that drawing is a delightful pastime that can build confidence that flows into all aspects of life. I'm always telling my students to embrace the process and trust the mess!
Beautiful faces is an inspiring, mixed media workbook on how to create enchanting fashion illustration-style portraits. Author Jane davenport is a beloved artist and workshop instructor known internationally for her effervescent, enthusiastic, happy, and encouraging. You can get 'Drawing & Painting Beautiful Faces' right here.
Start with a heart and create beautiful, in-proportion people! Aspiring artists who feel intimidated at drawing figures will love Jane Davenports amazingly easy technique, developed while she worked as a fashion illustrator. It involves using equal-size hearts to build the bodys structure and the results are astounding. Jane lays out the basics and walks you through working with different mediums: drawing the head, face, clothing, hair and features; and constructing figures inspired by fashion, fantasy, life drawing and more.
Bombarded by constant demands from work, home, family, friends and social media, women crave the opportunity to slow down and reflect on what is truly important. Journalling is a proven therapeutic process that promotes well-being and sparks creativity, but knowing where to start and facing a blank page can be intimidating. Imagine Out Loud combines famed artist Jane Davenport s inspirational artwork and trademark Jane-isms and quotations with compelling journalling prompts. Readers will be moved to write, make lists, doodle and draw. Designed to encourage introspection and self-discovery, Imagine Out Loud will be a constant companion in the search for creative and personal fulfillment.
A journey through the mysterious world of mermaids, explaining everything from how to accurately draw the figure of a mermaid to creating convincing habitats with mixed-media techniques. Jane Davenport shows how to draw and paint these sensuous sirens, with their perfectly proportioned figures and shimmering scales. She also provides unique suggestions for making an upscale mermaid art journal, gives a month's worth of creative prompts for Mer-May (or any day)and offers ideas for stunning collages.
From bestselling author Jane Davenport comes the ultimate journal for mixed-media artists! Make more time for creativity! In the follow-up to her popular Whimsical Girls, internationally known artist Jane Davenport once again offers her signature fanciful female figures, now accompanied by a menagerie of animal friends: cuddly koalas, noble lions, exotic birds, and more. Inspirational prompts and Jane's stunning illustrations accompany the journal pages, which are printed on a variety of fine-art papers, including coloring paper, marker paper, and watercolor paper, all perforated for easy display. Colorful collage papers and bonus stickers with even more original art and quotations round out this gorgeous package.
This is not your typical colouring book! Created by celebrated artist, Jane Davenport, and featuring only images of women, this book features Davenports signature-style figures, faces and fanciful drawings to colour and customise. Three types of high-quality paper for colouring, markers and watercolour encourage users to experiment with a variety of mediums and techniques, while bonus stickers and collage paper provide added fuel for creativity.